Over the past four or so years, Netflix has become my bff. And I'm sure I'm not the only one. It seems like Netflix has almost completely taken over the world. I love giving new TV shows a try, and Netflix gives me the opportunity to start dozens of new TV shows, without having to commit to watching them weekly on cable. But I never would've come across some of these shows if it weren't for other people recommending them to me. Which is why I'm writing this post - to recommend some of the TV shows that I love to you guys! All of the shows below are currently available on Canadian Netflix.
Gilmore Girls
If you've been following my blog for awhile, then I'm sure you know how much I adore this show.
Gilmore Girls follows the lives of a mother-daughter duo as they navigate their personal and professional lives in their small USA towns. The teenage daughter, Rory, is Ivy League-bound and her mother, Lorelai, is an inn manager that has to make peace with her wealthy, somewhat estranged parents in order to put her daughter through school.
This show tackles all sorts of issues and topics, in a realistic way. You can actually relate to the characters, which is such an important quality for a show to have imo. I seriously cannot get enough this show. And one of the main reasons why is Lorelai Gilmore. She's original, hilarious, and relatable. You can really empathize with her struggle as a single, working mother and you can't help but admire how far she goes to ensure her daughter has access to everything she needs in order to have the future she wants. The relationship between Lorelai and Rory really hits close to home for me, as my mum and I totally have the same sort of relationship, which makes this show our go-to.
Bonus: You can also watch the revival, A Year in the Life, on Netflix when you're done the series!
Downton Abbey
Oh, how I love me a good period drama. This one absolutely fills my historical-fic loving heart!
Downton Abbey gives a glimpse into the daily lives of an aristocratic family and their servants living on a country estate in England. The show follows the family through the sinking of the Titanic, all the way through the first World War, to life post-war.
I frigging love this show!! The characters are really what carry the show - they're complex, three-dimensional and intriguing. I especially love how headstrong the three daughters of the family are. Sybil, Edith, and Mary are three women that couldn't be any less alike but somehow they fit together perfectly like pieces of a puzzle. In one way or another, I sincerely love every character on this show!
New Girl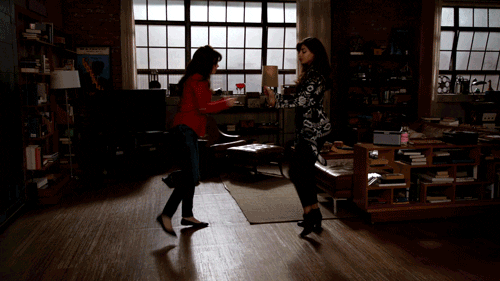 Out of the shows I've listed so far, New Girl is the closest to modern-day and I think it depicts adulthood in the 21st century quite well. Think Friends, but set in the 2010s in Los Angeles as opposed to the 90s in NYC. The show follows Jessica Day, a girly and quirky elementary school teacher, who moves into an apartment with three men after an awful break-up with her long-term boyfriend.
~ Who's that girl? IT'S JESS. ~
Full disclosure: I pretty much am Jessica Day. Hahaha. I can relate to pretty much everything she says or does, which is why I love this show so much. If you're looking for a light-hearted comedy with a wacky and fun set of characters and an awesome female lead, look no further! This show honestly never fails to brighten my mood.
The Office (US)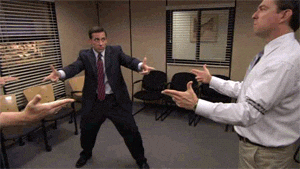 Betcha saw this one coming!! Everyone I know who's seen The Office absolutely loves it and I seriously cannot believe that it took me so long to finally watch it.
The Office is a mockumentary that follows the day-to-day running of a paper company called Dunder Mifflin, managed by the sometimes crass yet loveable boss, Michael Scott. You've probably come across this show one way or another, likely through Twitter. I think that what really makes this show are how the characters react to and talk to the camera. John Krasinski, who plays Jim, and Rainn Wilson, who plays Dwight, are AMAZING. If you're easily embarrassed, this probably isn't for you... But if you aren't and you need a good laugh, give this a go!!
Gossip Girl
If you managed to get through the first decade of the millennium without seeing an episode of this show, and you're really into teen dramas, then you're missing out.
Gossip Girl is about a group of wealthy and privileged Upper East Side teenagers, living extremely complicated lives in Manhattan, under the constant watch of an anonymous blogger named - you guessed it - Gossip Girl. I love everything about this show - the fashion, the characters, the script, the setting. Sometimes teen tv dramas can be kinda cheesy and immature, but I don't find that with Gossip Girl. I think that it can be enjoyed by people of all ages, actually! Plus, the soundtrack is pretty awesome.
The Good Place
This is a newer fav of mine, and it def deserves a place on this list. I'm already nearly done the first season, which is the only one available on Netflix currently, and I only started a couple weeks ago. Yikes.
The concept of The Good Place is pretty interesting. Instead of there being a heaven and a hell, there's the Good Place and the Bad Place. The Good Place is reserved for the very best of the best - only those who have reached a certain score of 'goodness' can get in. Whereas everyone else ends up in the Bad Place. Things get pretty messy when Eleanor Shellstrop, a 'mediocre' person (as she puts it), finds herself in the Good Place by mistake. I'm really really really glad I listened to everyone's recommendations on this one. It is such a funny show and Kristen Bell is seriously awesome as the lead.
What Netflix shows have you guys been loving? Let me know in the comments - I'm always on the hunt for new tv shows!
Felicia x